More than 2 million people have used credit cards to pay their mortgage or rent, an increase of almost 50% in a year, according to the housing and homelessness charity Shelter.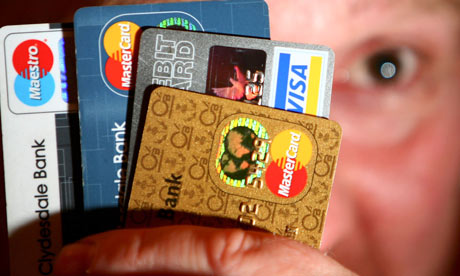 Research for Shelter conducted in August found that 6% of the 2,200 questioned had used credit cards to meet their housing costs in the previous 12 months. This compares to 4% in November 2009, and suggests a national figure of more than 2 million people who are making desperate last attempts to keep a roof over their heads.
With an increased threat of unemployment and rising interest rates, the charity warns that many people will be starting the new year with the threat of homelessness hanging over them once they have exhausted the limited and expensive credit available to them through cards.
Campbell Robb, chief executive of Shelter, said: "This research brings into sharp focus how keeping a roof over their head has become a daily struggle for millions across the country. This is a totally unsustainable situation and one which we fear could see thousands more families pushed into the spiral of debt, eviction or repossession and ultimately homelessness.
"Using credit cards to pay the rent or mortgage is simply robbing Peter to pay Paul. With the average credit card interest rate now standing at over 16% it is the worst possible course of action. Already someone faces the nightmare of losing their home every two minutes, and we would urge every single one of these people now relying on credit to keep their home to seek advice urgently."
Kingsley's story
Kingsley is a self-employed electrician and father of four, and has been struggling to meet payments on a second loan secured on his family's home since his business slowed down with the recession. He used his credit card to pay December's instalment.
"I'm under no illusion that I could lose my home. I had a choice of making a late payment or using the credit card to pay the mortgage so I chose the latter.
"Last month I was doing a job, which I can finish within one month and which pays me £3,000. I am thinking that this month I'll have the money to pay the credit card, pay the mortgage of £368 a month and won't have a lot at the end of it. I'm hoping that next week I get a call for someone I priced a job for that will be £20,000 worth of work.
"If that comes off, I'll be OK until April; if it doesn't then I don't want to think about the consequences."
He is now considering declaring bankruptcy and starting again.
—
Shelter has a network of advice services across the country which provide free advice on debt and housing issues, as well as a comprehensive advice website at shelter.org.uk/debt.