After reading Robert Kiyosaki's book Rich Dad Poor Dad and loving it, I eagerly wanted to get into his book Rich Dad's Before You Quit Your Job: 10 Real-Life Lessons Every Entrepreneur Should Know About Building a Multimillion-Dollar Business, even though it's too late for me since I already work for myself.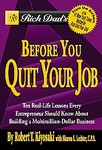 Overall it's a pretty good book, but not as captivating at the original, probably because this time he's not telling stories as much as detailing the thought process people should be ready for before deciding to start working for themselves. In that vein, I wish I'd been able to read it before I went out on my own.
What's really different about this book is that the most important lessons to be learned are actually in the introduction and chapter one. If, after reading those two chapters, your mindset isn't geared correctly based on the criteria, then it's probably best not to even start the process of working for yourself.
For instance, his list of 10 excuses people usually utter as to why they feel they can't go into business for themselves is illuminating right from the beginning, and later he mentions that one shouldn't wait for all the lights to turn green before pulling the trigger. He uses Microsoft as the perfect example of that philosophy; we all have experience with that.
Kiyosaki loves the number ten, obviously, because he then lists 10 reasons people need to consider before they actually transition from employee to entrepreneur. Those things are:
1. Ability to change philosophy from security to freedom
2. Ability to operate without money
3. Ability to operate without security
4. Ability to focus on opportunity rather than resources
5. Having different management styles to manage different people
6. Ability to manage people and resources they do not control
7. Team and value oriented rather than pay or promotion oriented
8. Active learner – no graduation day
9. Generalized education rather than specialized
10. The courage to be responsible for the entire business
And, the book is subtitled 10 Real-Life Lessons Every Entrepreneur Should Know About Building Multimillion-Dollar Business, which is the heading for the ten chapters in the book. He actually calls the first nine Sharon's Insights, named after the person he wrote the book with, Sharon Lechter, with whom he co-founded the Rich Dad Organization.
There is a lot one can get from this book. For instance, he has his five jobs every entrepreneur needs to have covered; he has his three biggest mistakes most independent business owners make; he has the six ways an entrepreneur can raise money; on and on.
He talks about the Cash Flow Quadrant, which is also another book of his, and I'll admit that I've never quite gotten a hold of the principles of that. One thing I thought was interesting was the transition process that most people go through when they're transitioning from an employee to an entrepreneur. There's stage one, you become unhappy as an employee with 13 steps; stage 2, overcome the fear of getting started with 14 steps; and stage 3, just start, with 10.
In the last chapter, near the end of the book, he offers ten tips, with explanations, of what people should do before they quit their jobs. Truthfully, if you only had time to read the introduction, chapter one, and chapter ten, you'd learn a lot. There's so much information in Before You Quit Your Job that what I've shared here is really just scraping the barrel.
There are many stories in here, and, after I came to grips with the fact that it wasn't going to be Rich Dad, then I was open to learning some of the things he said in this one, even though I had already become an entrepreneur of sorts. This is a must read book for anyone thinking about, or who already is, an entrepreneur.
~~~
source:http://www.circleoneconnect.com